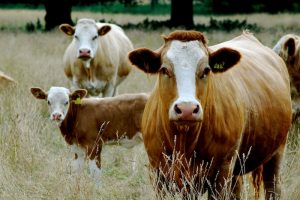 Stowlangtoft Estate comprises 1,000 acres of mixed woodland, pasture and arable land.  During the 1930's and 1940's the Estate focussed on producing vegetables.  From the 1950's onwards, however, the Estate grew predominantly arable crops, such as wheat, barley, and sugar beet. In addition to the arable farm, a flock of sheep and a herd of pigs were kept on the Estate up until the late 1990's.
Since early 2000, the Estate has expanded its business activities considerably. The focus has widened to include, vegetable production on the agricultural side and holiday cottages on the property side.
A successful development of Stowlangtoft Hall's Courtyard was undertaken, creating seven new properties and refurbishing one existing property. Of these eight properties, three have been developed into holiday lets.
As part of this development project the Estate also built a 20 million gallon reservoir.  This reservoir was built to enable the careful management of water resources on the Estate and to provide water for irrigation.  The Estate now grows potatoes and onions along with wheat, barley, sugar beet and oil seed rape.